There was an idea called the Real-Time Analytics Summit. The idea was to bring together a group of remarkable developers to see if they could become something more…to see if they could learn, teach, connect, and work together when we needed them to, to build applications that could harness valuable insights.
This idea has become a reality, and it's happening on April 25th and 26th in Downtown San Francisco. Or at least that's what this video says:
Real-time analytics is a relatively new field. We've spent decades refining the practice of gathering, storing, and running computations on the records of business activity—that is, doing analytics—but for so long, it has been the domain of batch processes built to serve decision-makers inside the organization. It's time for that to change. We created this event specifically to help you lead that change, by bringing together people who are building the infrastructure and customer-facing systems that are making real-time analytics a reality.
This is bigger than just another new conference. To be a part of this event now, when it's in its early days, will be something worth remembering. In a few years when we have many hundreds or thousands of attendees and more marquee brands are giving talks about their successful deployments, you'll have the memories, experiences, lessons, and swag to prove it. 
So what can you expect?
On Tuesday, we have our first keynote session with Kishore Gopalakrishna, Co-Founder & CEO of StarTree presenting The Real-Time Revolution has Come for Analytics.
Kishore's talk will address the recent upheaval in application architectures brought on by microservices and event-driven systems and will highlight that analytics has not properly joined the party yet. Companies like LinkedIn, Uber, and Stripe have begun to see that there is tremendous value in rethinking analytics along user-facing, real-time lines—deploying new kinds of database infrastructure to expose actionable insights to users immediately, not just the dashboards and reports we've been living with.
On Wednesday, we have Modern SaaS is Real-Time SaaS by Gwen Shapira, Co-Founder of Nile. Gwen will argue that the migration of software from local client installs to Software as a Service has created a concentration of actionable data that is not just valuable to vendors, but forms the cornerstone of a rich new kind of user experience when insights from that data are exposed to users in real-time. Gwen will share some of the architectures she's seen teams develop to deliver these insights and point out the architectures that break in painful ways compared to the ones that are proving themselves in this new generation of applications being built now. In short, SaaS is moving the category of real-time analytics forward in dramatic ways.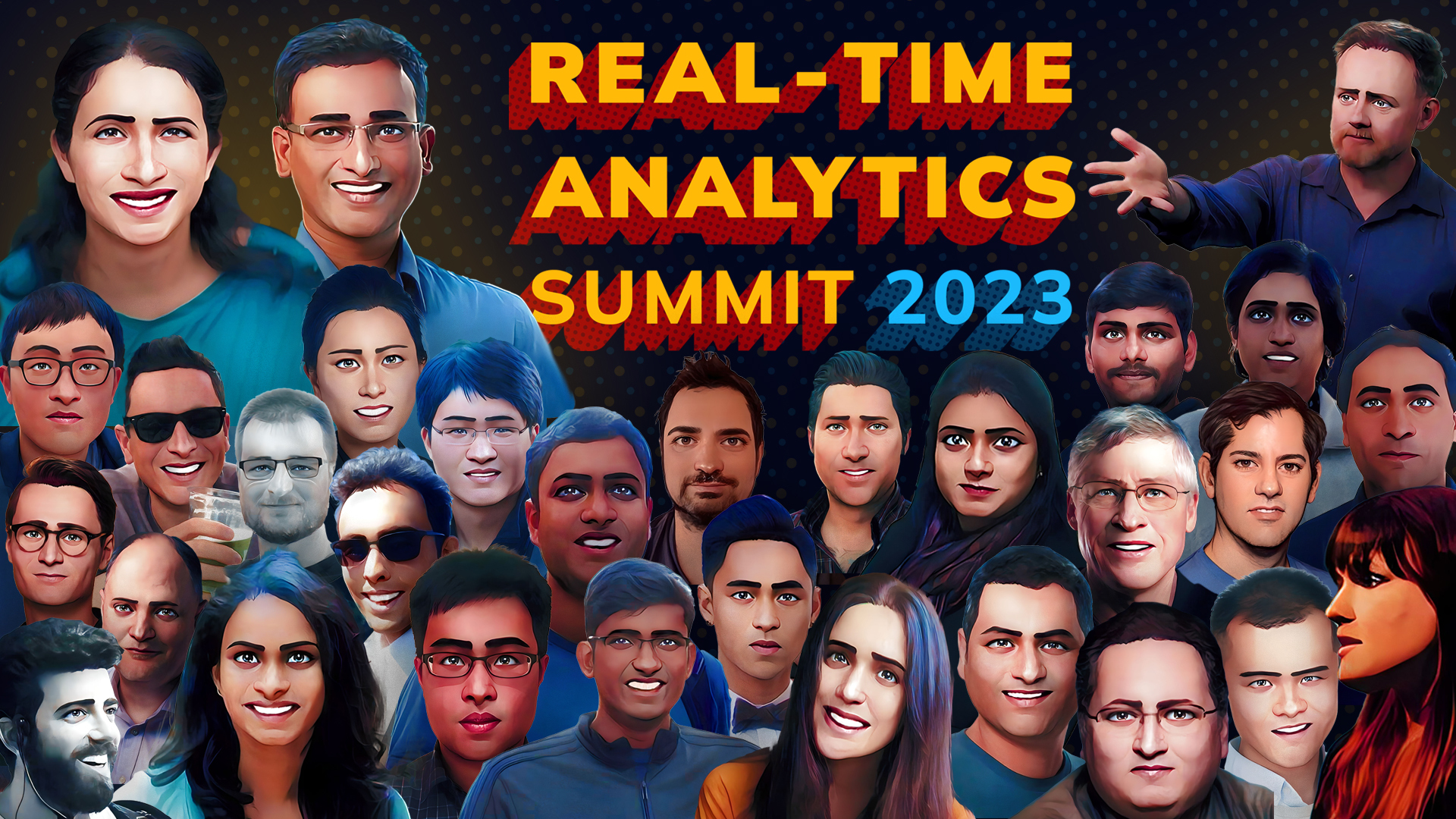 And after the keynotes, we have 24 sessions packed with speakers from LinkedIn, Confluent, Aiven, Starburst, DeltaStream, Cloudera, and more. Some highlights:
Few people know, and can teach, Kafka Streams like Confluent's Anna McDonald. She'll share Elementary Analytics with Kafka Streams, giving us a very important stream-processing tool for our toolbox.

Ken Krugler brings us Using Flink & Pinot for Complex User-Facing Analytics, in which he'll tell us how to use Flink for computationally heavy stream-processing workloads like machine learning and natural language processing before ingesting into Pinot.

Neha Pawar and Chinmay Soman will compare Apache Pinot, Apache Druid, and Clickhouse in A Tale of Two Databases.

Ryanne Dolan shows us how he's built data pipelines at LinkedIn using nothing more than Kubernetes, YAML, and raw determination in his highly-rated Deeply Declarative Data Pipelines.

In Unlocking the Secret to Exceptional Customer Satisfaction: Automated Monitoring and Anomaly Detection Techniques, JustEatTakeaway's Leon Graveland and StarTree's Madhumita Mantri will show us how automated anomaly detection may just be the killer app in the real-time analytics world.
And of course, this is all in person. I've seen a few vendor-centric events pivot back to online this year due to the challenging economic climate, but we believe it's time to see each other face to face. At Real-Time Analytics Summit 2023, you can expect to meet hundreds of people like you who are building next-generation systems that expose analytics results to users in real-time. You know what to do. 
Real-TimeReal-Time Analytics