Real-Time Analytics Summit 2023 brought together an impressive collection of industry-leading developers, architects of the world's fastest streaming analytics databases, and representatives of all the essential real-time data technologies. It was an assembly of industry leaders and innovators, all gathered in one place to advance the state of the art. Here is your on-the-ground reporting straight from the halls of the Hotel Nikko, San Francisco, where the event was held recently, April 25th and 26th, 2023.
Kishore's Keynote: The Rise of Real-Time Analytics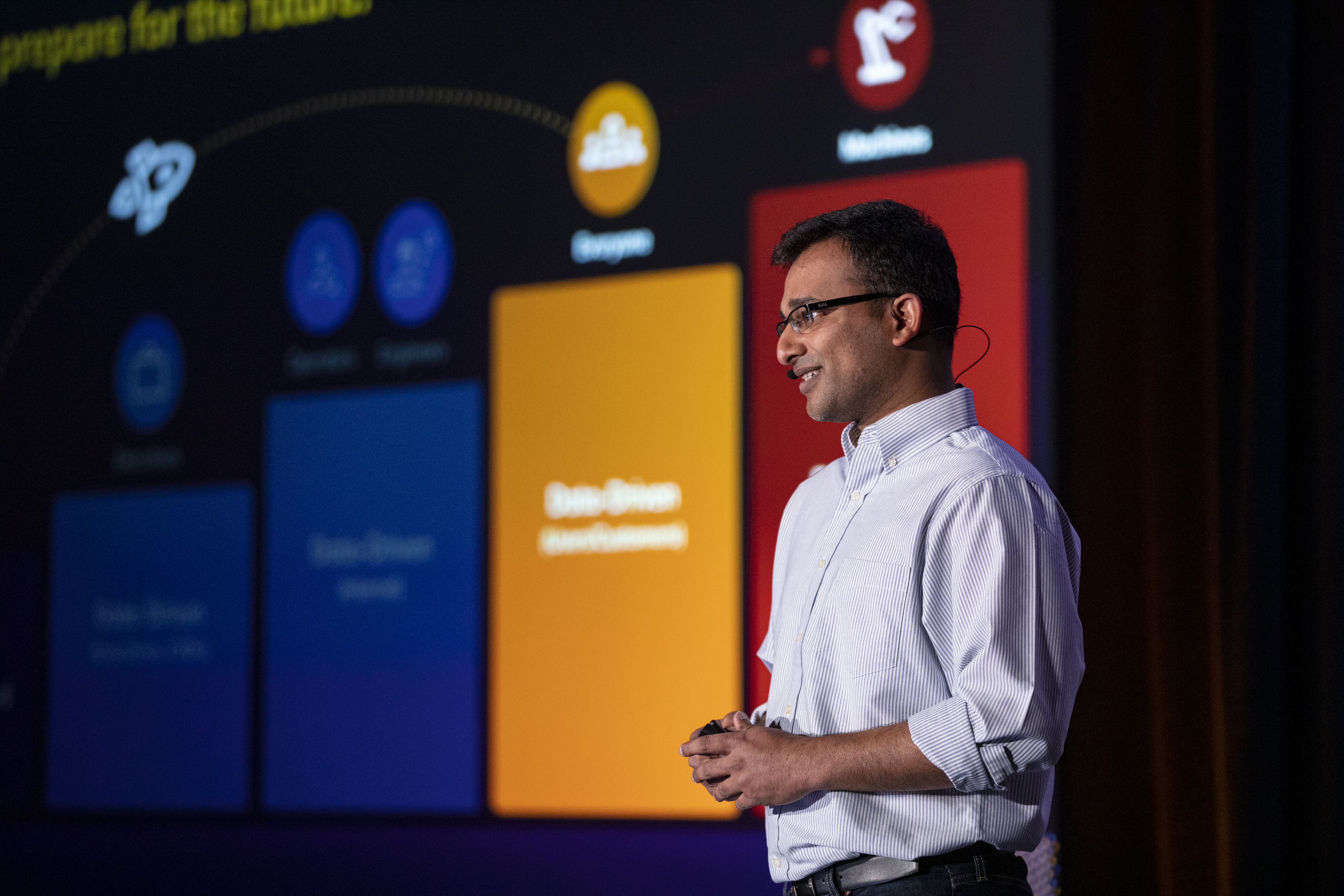 The event kicked off with a keynote from StarTree founder and CEO Kishore Gopalakrishna. He noted three critical dimensions that are required to move from historical Online Analytical Processing (OLAP) systems, such as batch-oriented data warehouses, to real-time analytics. Data freshness, low latency, and high concurrency. It requires new, purpose-built databases to capture data in real time from event streaming systems, index it quickly, and make it immediately available for querying. Plus, they need flexibility and scalability to support magnitudes greater queries per second (QPS). These were the factors that gave rise to such databases as Apache Pinot™.
You can watch Kishore's full keynote now:
Gwen Shapira: Modern SaaS is Real-Time SaaS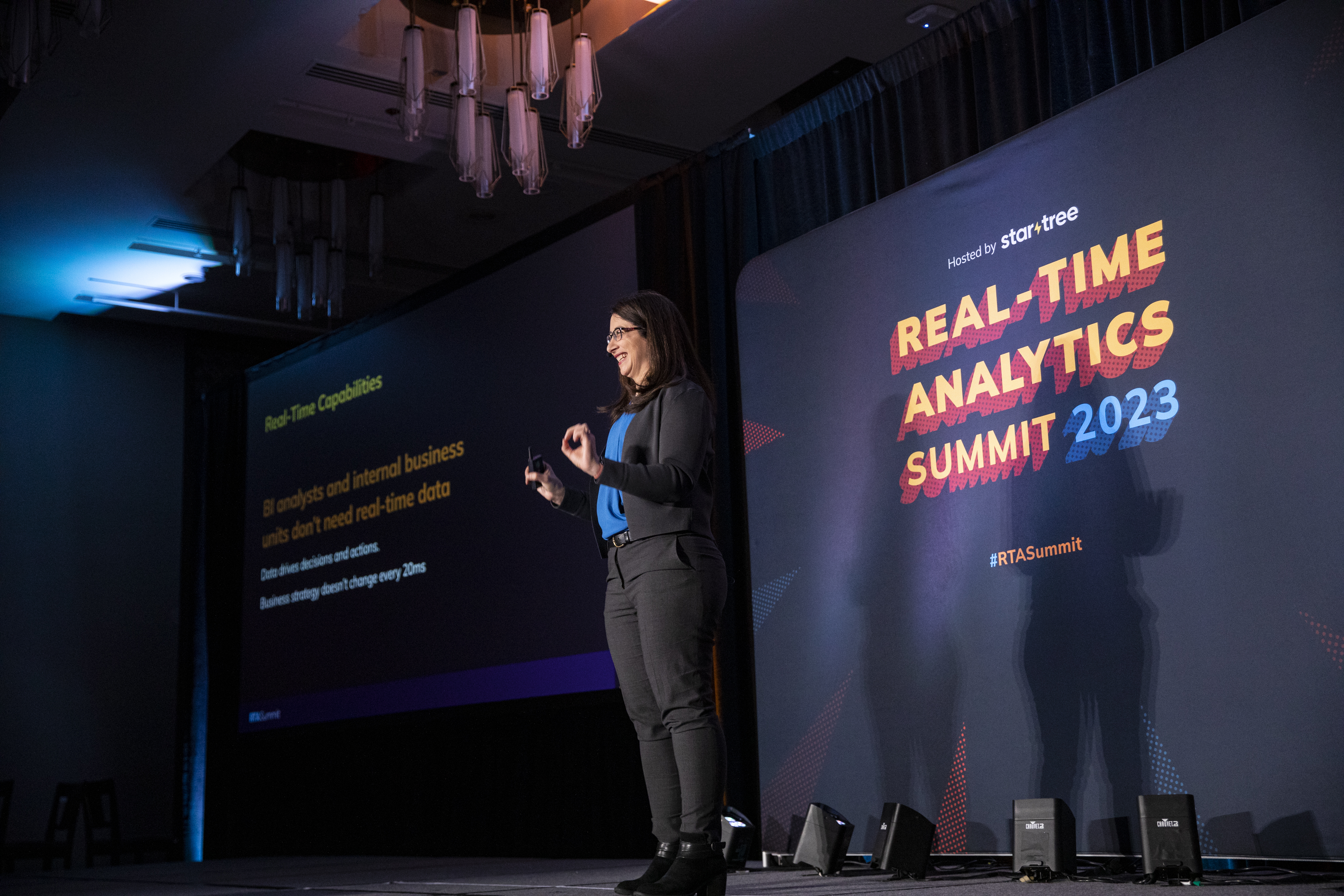 Gwen Shapira, co-founder and Chief Product Officer at Nile, was the headline speaker on the second day of Real-Time Analytics Summit. The central premise of Gwen's talk is that "The real value of real-time data lies outside the C-suite, in the hands of users who need real-time data for real-time decisions and action." As Gwen pointed out, "Business strategy doesn't change every 20 milliseconds," but apps that empower line workers, front-line managers, and customers greatly benefit from real-time data. Gwen emphasized the need for data freshness so that users can make critical decisions throughout the day. Note: data freshness is not the same thing as a low-latency, responsive UI. What if your app renders quickly, but all the data presented is hours or days out-of-date? 
You can watch Gwen's full keynote presentation here:
Panel Discussion: Microsoft, LinkedIn, Cisco, and DoorDash Weigh In
The second day of the Summit also saw StarTree's VP of Developer Relations, Tim Berglund, lead a lively and insightful panel discussion between four powerhouse leaders in real-time analytics:
They each spoke about the historic shifts real-time analytics allowed in their organizations. Kapil (LinkedIn) noted that a new type of database was required to run these workloads: "There's no way you're going to run that level of QPS from a data warehouse. Search kind of worked but wasn't built for this." This was what led them to invent Apache Pinot internally. The value was only obvious after the new database was available. But it allowed LinkedIn to do things that were never possible before.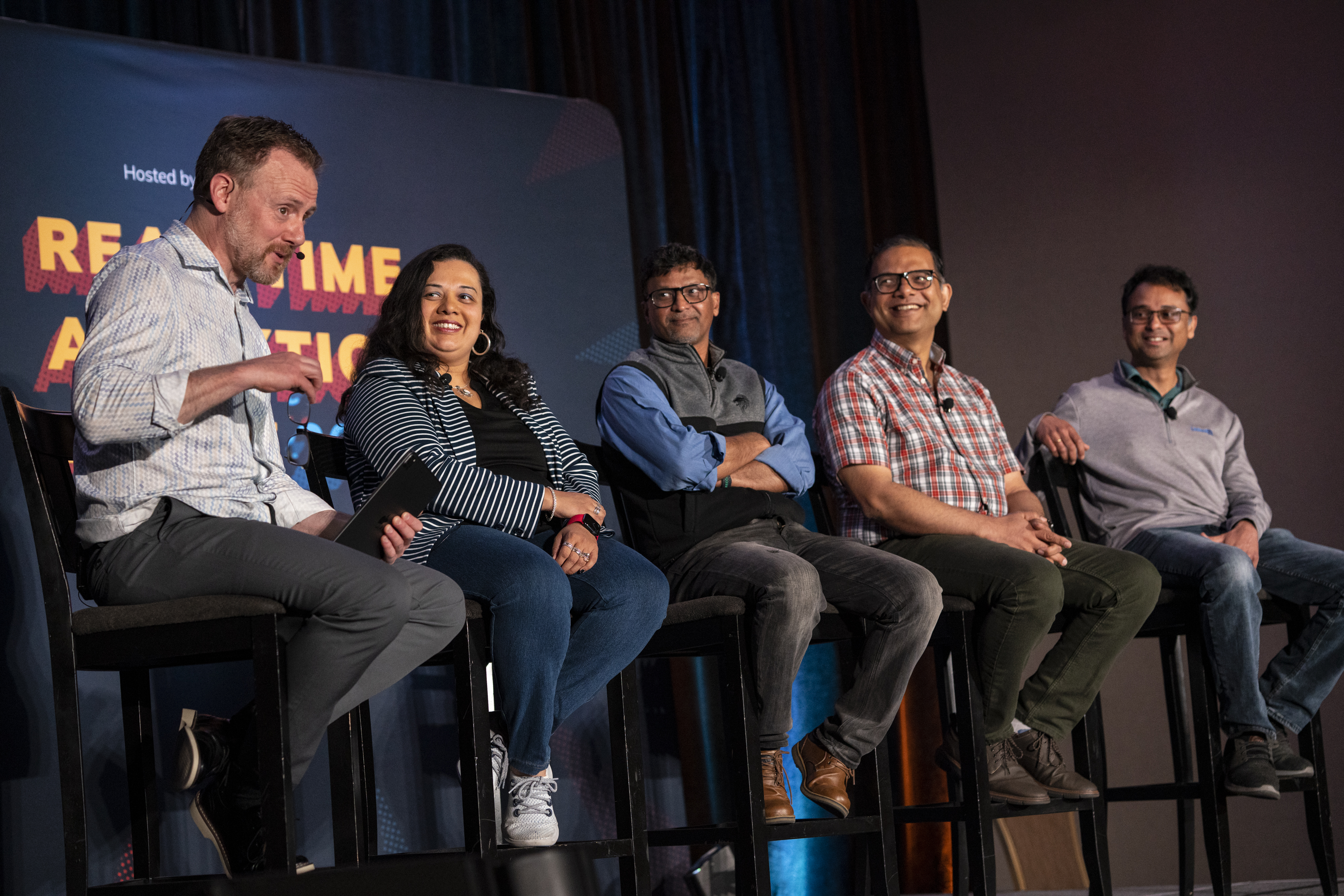 From left to right: Tim Berglund, VP of Developer Relations, StarTree; Dipti Borkar, VP and GM, Microsoft; Kapil Surlaker, VP of Engineering, LinkedIn; Sachin Joshi, Sr Director of Engineering, Cisco Webex; Sudhir Tonse, Director of Engineering, DoorDash
Sachin (Cisco) talked about how the pandemic drove the growth for Cisco Webex. Suddenly it wasn't just the service admins; it was HR department heads and CxOs that wanted to know what features were used and how much time was spent in-app. And it all needed live troubleshooting.
Sudhir (DoorDash) dove into the convergence of multiple waves of advances: how the adoption of microservices, public cloud services, and on-demand consumer services all drove the need for real-time data analytics.
Dipti (Microsoft) observed the move from batch, nightly updates to real-time was the drive to derive value out of data, plus the trend towards "Saas-ification." While much began in open source, it's become mainstream today, and noted the massive scale of Azure Analytics. She emphasized how Microsoft "dogfoods" and uses real-time analytics for telemetry and logging.
You can watch the full video here:
Real-Time Analytics Databases Compared
Real-Time Analytics is not a single-vendor driven industry. In fact, it is an industry primarily driven by a rich and diverse array of open source software options, including Apache Druid, Apache Pinot, and Clickhouse. To that end, A Tale of Three Real-Time OLAP Databases was a session comparing these three leading databases. Presented by StarTree's Chinmay Soman and Neha Pawar, the goal was to objectively assess the current state of the art, clarify and objectively compare each respective database's capabilities, and help guide users to the right real-time analytics database for their use case.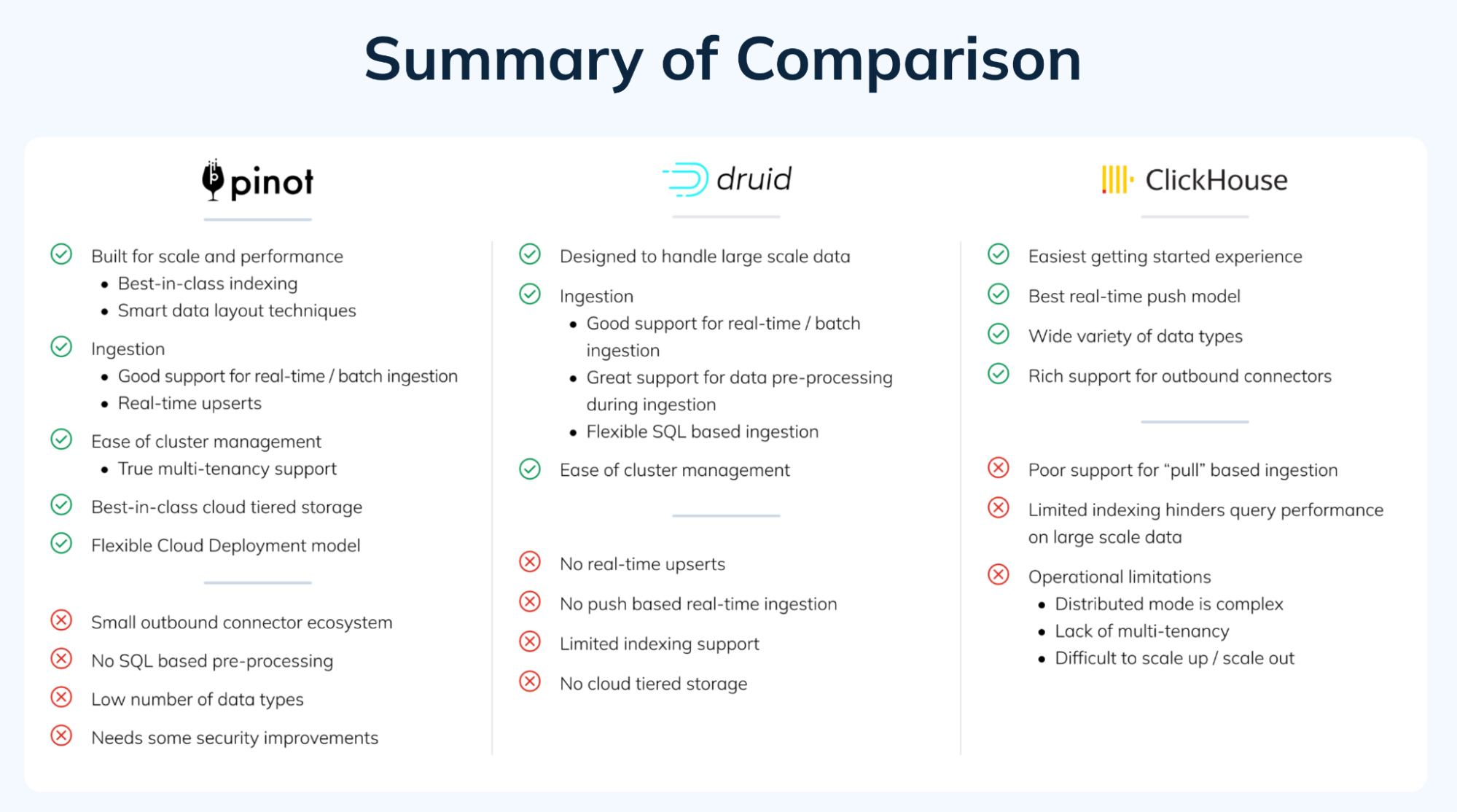 This talk was accompanied by a related blog, which you can read in full: A Tale of Three Real-Time OLAP Databases: Apache Pinot, Apache Druid, and ClickHouse
Real-Time Analytics Summit was a great showcase for Apache Pinot. It included technical deep dives, discussions of the latest features and capabilities, real-world implementations, use cases, and lessons learned. Here's a list of the Apache Pinot related talks. In due time we'll make recordings of these available on-demand: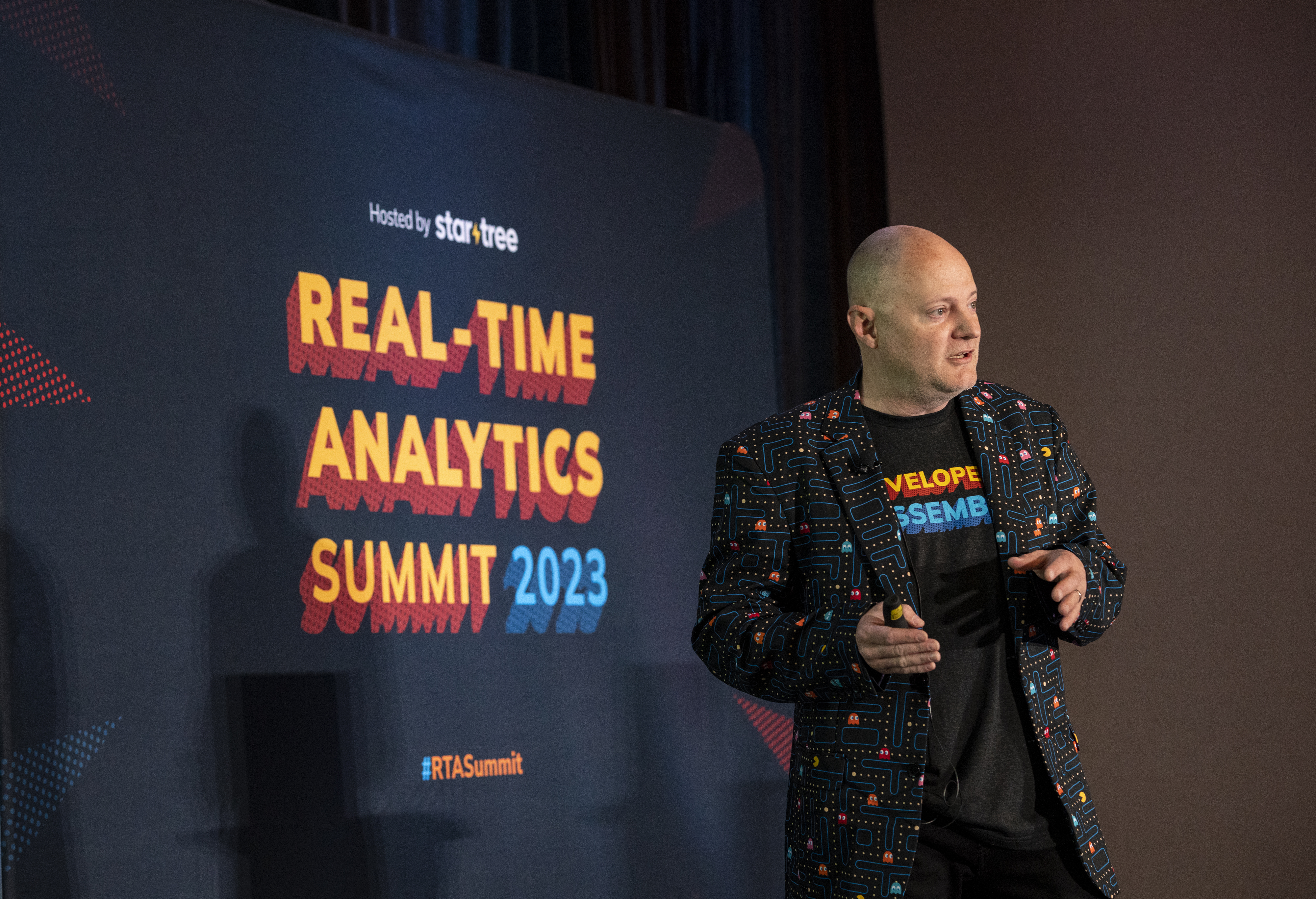 StarTree Cloud Talks
StarTree Cloud, powered by Apache Pinot, also includes additional capabilities. Two sessions delved into specific features of our fully managed cloud Database-as-a-Service (DBaaS):
More Industry Talks
Thank You to Everyone!
An event like Real-Time Analytics Summit takes a lot of work in preparation, content review, behind the scenes, and on stage. To all of our sponsors, speakers, reviewers, StarTree staff, and attendees, I wanted to thank you all for making the 2023 event so successful. Look forward to more on-demand videos in the coming weeks ahead and more blog posts that will provide deeper dives into the topics presented in the individual sessions.
Apache Pinot