I am thrilled to announce that StarTree has raised an additional $47 million in Series B funding. 
This has come a little over a year since we emerged from stealth mode and announced StarTree Series A. We've come a long way in this time, and it's amazing what a dedicated and passionate team can accomplish in such a short time.
First, the slack community around Pinot grew three-fold, from about 800 people to over three thousand. That community has been a source of insight and enthusiasm for us, pushing the boundaries of what we could do with Pinot.
Second, StarTree itself grew its customer base by more than ten-fold. Our customers have been forward-thinking champions of this technology, and we have developed a strong feedback mechanism with them to continuously improve the product. For me, it has been truly exciting to see them leverage the platform for a wide array of use cases, ultimately differentiating themselves and their services from their competitors. 
Third, our team has grown in lockstep with the growth of the community and the customer base. We were a team of about 18 people at our Series A, and now at our Series B announcement we are a team of about 70—all of whom are highly motivated and talented people from across the globe. I can only imagine the awesome ways in which these groups will grow and contribute to StarTree in the future!
The new round of funding will accelerate our momentum towards our overall mission to democratize data insights, ensuring that analytics aren't just limited to a small set of data professionals, but available to every person who should be making decisions based on data.
It is entirely appropriate, then, to pause for a moment to reflect on how this new round of funding helps that mission, and what it says about where we are in our evolution.
User-Facing Analytics Has Come into its Own
When our small team started working on Pinot at LinkedIn, no one had heard the term "user-facing analytics" outside of that company's walls. We literally began the discussion back in 2015, outlining the challenges that were coming with scaling a large real-time database—and what we could potentially do if we had the technology to meet those challenges.
There are now several companies in this space offering solutions for real-time analytics and user-facing analytics, and even more are discussing the potential of these technologies. It feels good knowing that our early efforts are what kicked off this discussion. That others are joining the conversation points to a real need in the market: The need to democratize decision-making and give organizations a way to leverage the vast stores of data they produce.
This history is important to keep in mind as we discuss where StarTree is going during this next phase. Pinot is already a battle-tested product, powering some of the most-used applications from some of the biggest brands in the nation. And as more and more organizations choose to try Pinot, they will want the help and guidance of a partner that understands not only the technology, but the myriad ways in which it can be used. Who better than the team that spent the past six years perfecting the technology and bringing it to market?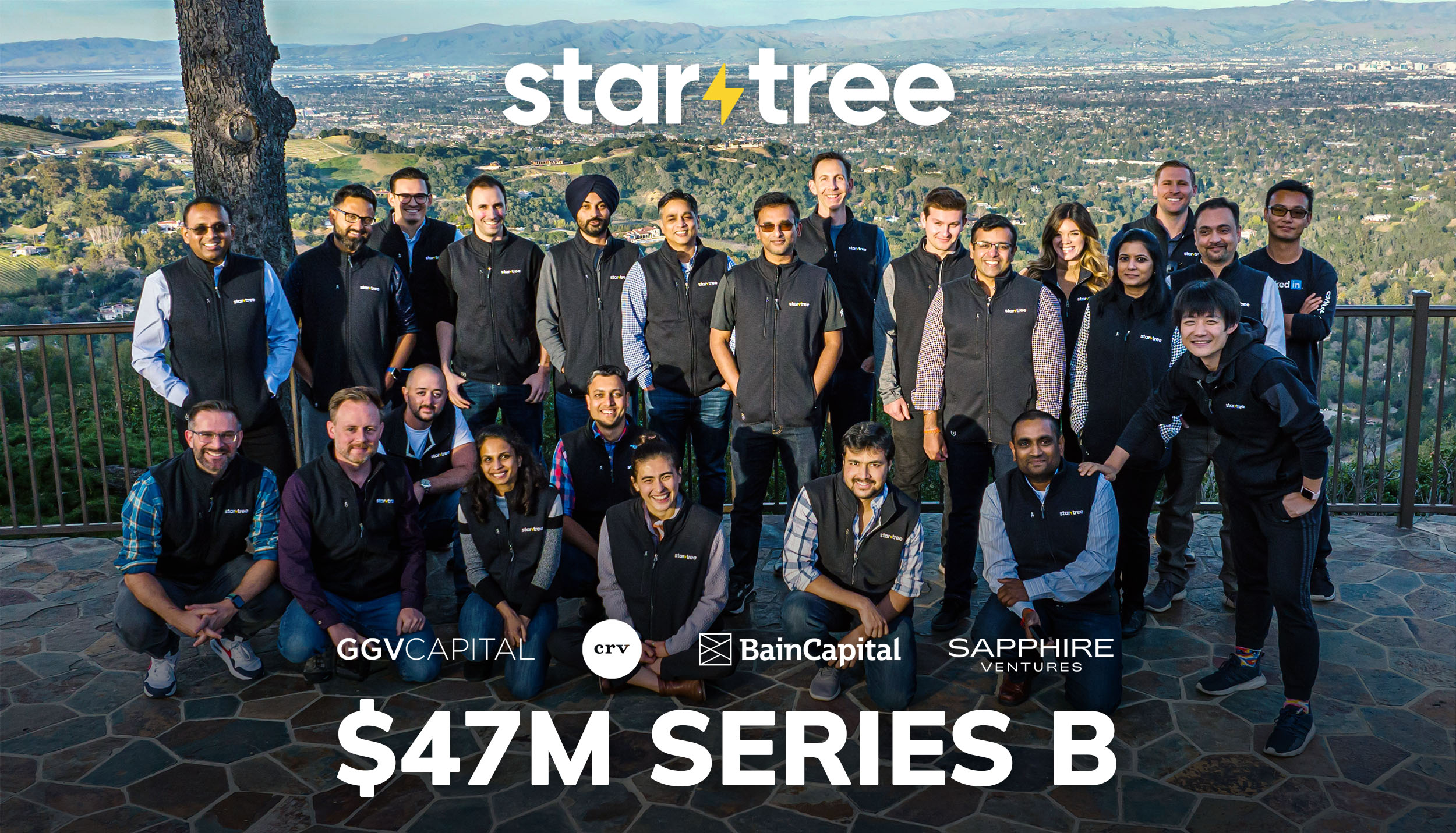 StarTree today. This is just 24 members of our 70-member team.
Future Developments and Our Roadmap
Although Pinot is a mature product, there is still a lot to do.
Our future roadmap is largely focused on developing the application ecosystem around Pinot. This will offer popular out-of-the-box applications that can begin providing value immediately to organizations implementing Pinot. A great example of this is our application ThirdEye, used for anomaly detection; and we are working on other tools that make it easy to get value out of data quickly. Tools like ThirdEye will reduce the time to value for organizations adopting Pinot in their data stack, and open the door for more companies to extract intelligence that can enable their customers, partners, and employees to take action based on the latest data and insights.
Developing this application ecosystem is also leading to improvements in the ways in which others can build their own apps on top of Pinot. Thus, whether an organization needs an out-of-the-box solution or a custom one, they should be able to implement it quickly with the power of Pinot behind it.
Or as we at StarTree like to say: We've built an awesome engine—it's now time to build the Ferrari around that engine. Then, there will be no limits to where people can go.
We also love when customers ask for more and we get to push the boundaries on real-time analytics. For example, some customers have asked us to bring Pinot's lightning-fast speed to bear on their internal analytics as well. Others want to ingest large amounts of data, but using their S3 backend instead of SSD (essentially trading some performance for cost).
To those ends, we are proud to announce that we are the first true OLAP engine that works natively on top of S3. You can read about it here. This is already proving to be a game changer in many of our customer deployments, and we are continuing to enhance the capabilities of tiered storage, all of which gives people control over the trade-off between performance, cost, and freshness—all using one system.
Finally, we are also announcing a self-serve cloud implementation of Pinot, which will allow users a chance to try Pinot and a handful of applications right out of the box. You can read about that product announcement from our Product Manager.
Final Notes of Thanks
I've saved some of my biggest "thank-yous" for last. 
A heartfelt thank-you goes out to Glenn Solomon from GGV Capital, a true expert on enterprise tech with an impressive track record of investment (airbnb, Opendoor, Slack, Square, Zendesk, and HashiCorp—just to name a few!). Thank you for taking the lead in our series B round of funding!
Thanks also go out to other early investors, CRV and Bain Capital. And joining them, with a warm welcome from us, is our newest investor: Sapphire Ventures. We thank all of you for believing in our mission to make data more accessible and actionable to everyone, especially the everyday decision-maker.
And of course, a big thank-you has to go out to the community as well. I am continually amazed and humbled by the way that the community has embraced both Apache Pinot and StarTree. Believe it or not, our Slack community is the first thing I look at every morning, even before email or news sites. It keeps me rooted and reminds me why we are doing this in the first place.
This latest round of funding will enable us to continue hiring the best people all over the world, to continue investing in Apache Pinot and its open source community, and to continue building StarTree products that make it easy for every organization, big or small, to empower their employees, customers, and partners with real-time insights. I, for one, can't wait to see what that future brings!
Come join us on our journey.
StarTreeReal-Time AnalyticsNews